Capitalising on the benefits of 3D printing technology can drive down costs in manufacturing. With potentially limitless applications for plastic and metal printers modern manufacturing companies aren't short of places to start. Industry 4.0 has arrived…
Throughout time, manufacturing companies have needed to adapt to survive and during 2020 they demonstrated that resiliency is key.
Constant demands from management to identify and drive down costs means today's engineers must be more adventurous and creative to realise valuable cost savings.
Many in the manufacturing sector, especially in engineering, believe "the easy wins went long ago". However, I'm not so sure. Over the last five years we have seen a number of agile, entrepreneurial, high-tech companies start up, or morph from their current position, to offer today's engineers a host of modern technology that can help drive down costs. Known as Industry 4.0, they present a range of offerings covering design automation and iteration, production monitoring software with real-time logic-based decisions and even - bearing in mind it has been around for some 30 years - good old-fashioned 3D printing.
The market moves very quickly and 3D printing for engineers has improved tremendously in recent years. Printer manufacturers, for example, have released new flame-retardant materials that provide safe working environments where static electricity is a problem. It would also be true to say that metal printing has, at last, been mastered successfully. This technology now offers engineers affordable printers with strong materials and predictable results, yet it often struggles to be taken seriously in the Boardroom. While early 3D printers did a great job in raising awareness of the technology, they had an equally adverse effect, because of the items people chose to print with them. Green men and games characters fail to cut it with the engineering Board.
Simply borrowing a printer from the design office and expecting immediate cost savings is not realistic. Design office printers use different materials and technology compared to those used by engineers. 3D printing is designed to take businesses outside of the design office, rather than within it, helping to realise the ROI.
A solution for everyone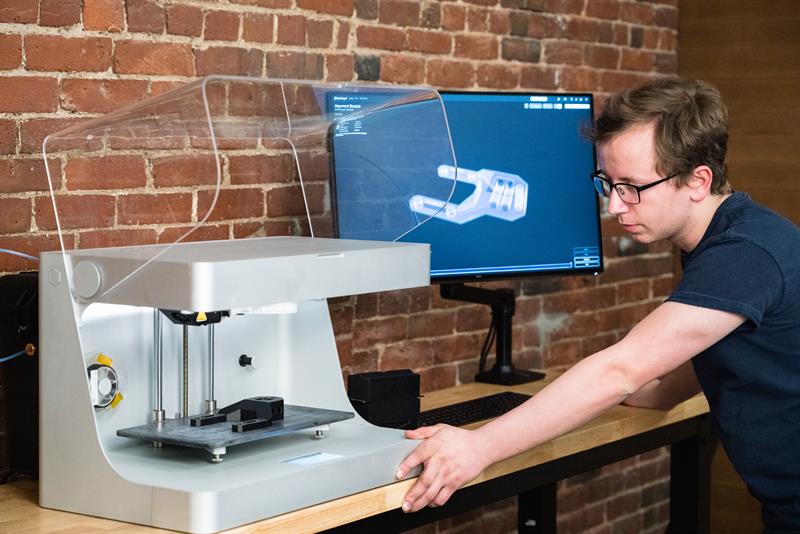 So many of today's engineers are limited by their budget; likewise they are skills rich and time poor. They can purchase only the essential things to keep their factories running and for supporting colleagues with engineered items. Many will dream of speeding up production with new fixtures, making machines go faster by removing weight from metal parts, and reducing the cost and lead times associated with outsourced components. With more time on their hands, they could improve things greatly – 3D printing affords them that time.
Indeed, many have gone on to invest in thoroughbred 3D printers. Often these printers offer strong base materials along with the ability to add a second continuous fibre filament, such as carbon fibre, and many will be unaware that they can be purchased for less than the cost of a small van.
Finding the right machine
Modern 3D printers make plastic parts that are stronger than aluminium, weigh dramatically less and cost a fraction of the price. The possible uses are almost endless for anyone who invests in the technology. Nowadays, you can print strong robot grippers and reduce the weight of the part by one third. This weight reduction allows the robot to increase its payload by the same amount or move quicker in its operation, depending on operator preference.
Machining fixtures that can withstand the harsh environments inside computer numerical control (CNC) machine tools and drilling jigs can be printed in a fraction of the time it takes to sub-contract one. These fixtures are as accurate as they might be if produced by the "traditional" method that is used currently.
Entry level machines, known as desktop printers, are very popular with many organisations purchasing multiple units. These machines offer the full range of materials required by today's engineer. They use a 240v plug and sit on the desk in the engineering department, running 24/7. Programmes can be sent to the printer remotely once an accurate time/cost analysis has been performed via the associated software.
Imagine a world where centrally controlled engineering departments print parts, on demand, in remote facilities throughout the world and local staff fit them.
Larger industrial type machines now include laser measurement systems to check and automatically correct parts mid-print, giving constant loop feedback to make necessary corrections. They offer flame retardant and electrostatic safe materials for specialist applications, and regularly create products that are ten times cheaper than CNC machined parts. Because of the cost, practicality and logistical benefits, we now see printers appearing in traditional sub-contract machine shops as business owners react to the changing dynamics.
The start of a global transformation in the manufacturing process
Today, there are hundreds of examples available to demonstrate parts in end-use situations. These "fit and forget" uses allow those outside of engineering to carry on their daily routines oblivious to the fact that their mission critical application has printed parts within it. Due to the range and quality of new materials, it can be very hard to tell which parts are printed and which are made traditionally.
A range of easy-to-use metal printers has also appeared on the market that cost less than the price of an average CNC machine tool. These printers offer an ever-growing range of materials and regular advances in functionality. The technology is now both affordable and usable – for everyone. It has a very short learning curve and requires no specialist skills. Uptake is therefore expected to grow exponentially. In a very short space of time, we will see metal printing become commonplace and the use of hybrid (plastic and metal) engineering solutions take off at quite some pace too.
In many situations traditional manufacturing techniques, which have been used for centuries to create low-volume components, can no longer compete. I believe that eventually every company that is serious about manufacturing will have added a 3D composite printer to the plant list and most will add metal too, after learning on plastic. Engineers will have access to their machines from anywhere in the world and will think nothing of setting off print jobs across a wireless connection remotely. This is truly the start of a global transformation in the manufacturing process.