OSL Cutting Technologies: Queen's Award for Enterprise: International Trade
Yorkshire-based OSL Cutting Technologies, which forms part of the OSL Group, has been awarded the prestigious 2021 Queen's Award for Enterprise in the International Trade category.
The award comes in recognition of OSL Cutting Technologies' position as a global leader in the design and manufacture of cutting tools.
Established in 2015 and now employing more than 100 people from its base in Sheffield, its brands include Rotabroach, GJ Halls, Taylor & Jones and Unibor. In 2019 the business also announced the acquisition of Universal Drilling.
Speaking of the award OSL Cutting Technologies CEO, Mathew Grey, said: "We are extremely proud to have won the Queen's Award for Enterprise. Having a prestigious award behind us as we represent Sheffield in international markets will help us to grow our footprint and drive us to higher levels of excellence.
"OSL is further proof that Sheffield manufacturing businesses can outperform international counterparts in their home markets as well as in our own."
A family-owned business with a manufacturing heritage dating back to 1864, OSL Cutting Technologies has developed into one of Europe's largest manufacturers of High-Speed Steel cutting tools.
James Muir, Chair of the Sheffield City Region Local Enterprise Partnership, said: "It is great to see OSL Cutting Technologies receive such a prestigious award in recognition of the role it plays both in the excellence of British Manufacturing, as well as international trade for our region.
"The strength, innovation and drive of South Yorkshire's business community is evident, and this accolade is a true testament to the hard work of the team and the company's ongoing commitment to investing in developing its people and its world-class product range."
MasterMover: Queen's Award for Enterprise: International Trade
Derbyshire-based designer and manufacturer of compact, powerful, battery-operated tugs, MasterMover, has also been recognised for its excellence in international trade. The company has enjoyed outstanding continuous growth in overseas sales over the past six years.
MasterMover electric tugs improve the safety and efficiency of operations in a variety of sectors including manufacturing, pharmaceutical, healthcare, food production, retail and logistics. Today, the company has subsidiaries in North America, France and Germany alongside a management team and sales partner network that extends across the globe.
On winning the award, MasterMover's Andy Owen said: "Receiving the Queen's Award is a recognition of the hard work and dedication of everybody in the company and the journey so far that we've been on together. This is a wonderful accolade we can all be proud of as we look forward to an exciting future."
AESSEAL: Queen's Award for Enterprise: Innovation

Rotherham-based mechanical seal manufacturer, AESSEAL (headquarters pictured), has won its twelfth Queen's Award. The Short Canister Mixer Seal which is the subject of the latest award is the world's first Zone 0, 1 and 2 range certified mixer seal, based on a modular platform and is capable of sealing the most difficult applications in the world by design.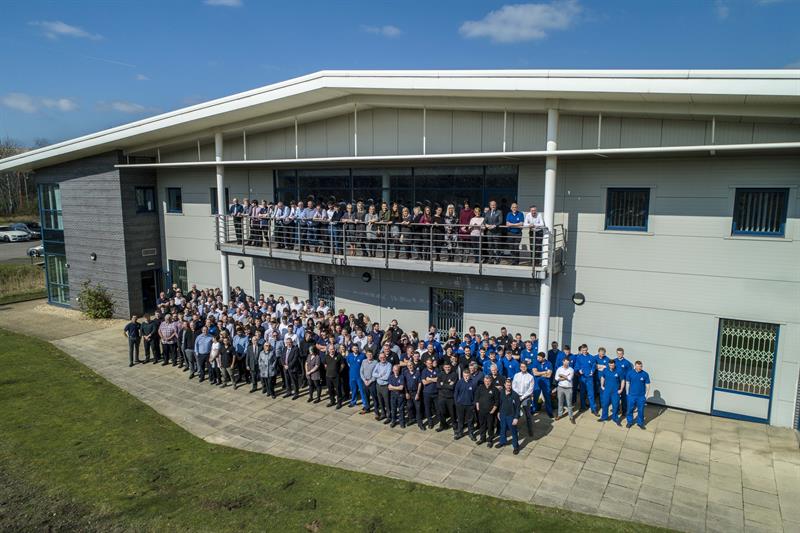 AESSEAL is the last remaining UK manufacturer of a full line of mechanical seals after their largest competitor moved its UK manufacturing base to the Czech Republic a decade ago.
Managing Director and Founder, Chris Rea, said: "Without a shadow of doubt a Queen's Award is the greatest single honour that can be bestowed on a business and the value to the morale and motivation of myself and my colleagues is incalculable.
"Part of our drive for excellence has been the motivation to be able to fly a Queen's Award for Enterprise flag continuously since 1989 and now we will have the right and privilege to be able to do so for the next five years."
Crystal Doors: Queen's Award for Enterprise: Sustainable Development
Crystal Doors manufactures vinyl-wrapped doors and components for kitchens, bedrooms and bathrooms, employing 34 local people who on average live less than three miles from the factory in the centre of Rochdale.
The company has been recognised with the prestigious national award after pioneering an innovative approach to achieving net zero manufacturing.
A radical sustainability programme – featuring smart autonomous machinery, energy efficient technologies, solar panels, electric vehicles, carbon literacy training and biomass heating fuelled by the factory's own waste – has reduced Crystal Doors' direct carbon footprint by nearly 80% in just five years.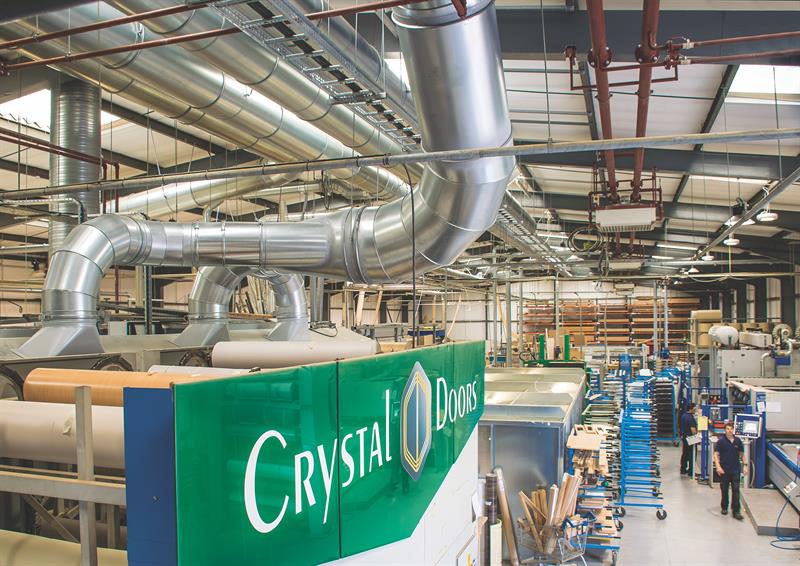 The measures are also saving nearly £200,000 a year in energy and material costs, showing that it is both possible and desirable for businesses of all sizes to benefit by taking action on the climate crisis.
Managing Director Richard Hagan, who first recognised the need to act after environmental concerns nearly closed the factory in 2015, said: "The science says we only have a few years of inaction left before achieving our global agreements on greenhouse gas emissions become impossible. It is our collective responsibility, as businesses and as a society, to take action. Our story is proof that even small organisations with tight purse strings like ours can turn things around rapidly."
CORE (UK): Queen's Award for Enterprise: International Trade
Leading digital supply chain software provider, CORE (UK) Ltd has been awarded the Queen's Award for Enterprise for International Trade for outstanding growth and commercial success in international trade.
The London-based software firm, which counts EU, UK and US as its biggest sales markets, was recognised as an exemplary model in international exporting in what has been an exceptionally challenging year for the global economy.
Led by CEO and co-founder Benjamin Puncher, CORE was applauded for growing an impressively steep 67% increase in international sales over three consecutive years, up from just 6% in 2017. Overseas turnover also increased by 1,695% in the three year period.
Mr Puncher commented: "Over almost three decades CORE has delivered innovative supply chain management and visibility solutions to an extensive list of organisations across a range of industries. We are proud to call some of the world's biggest retailers long standing clients including Primark, M&S and Argos. We're absolutely delighted to receive the highly sought after Queen's Award for Enterprise for International Trade and feel proud of our consistent growth which was achieved through our continual commitment in demonstrating the benefits of a digitised supply chain to new and existing clients. This award is testament to the hard work of our team, and we look forward to further international expansion into the US and Asia in the coming year."