During last year's COP26 summit in Glasgow, Chancellor Rishi Sunak announced that the UK will force financial firms and major businesses to publish their net zero transition plans by 2023. End-to-end supply chain visibility, bolstered by access to reliable data, can help businesses in meeting the new rules by developing a clear and effective decarbonisation strategy.
While many businesses have already set out on their net zero journeys, others are only just getting started. Either way, the pressure on Boards to take action is mounting and planning for net zero has risen up the corporate agenda. 43 per cent of respondents to a recent survey of 125 C-Suite executives, conducted by management consultancy, Vendigital, said they intend to adopt a green sourcing strategy in the coming year. However, this hasn't translated into action in all cases – for example, more than a third of the businesses have yet to appoint a head of sustainability or ESG (35 per cent) or implement a green sourcing strategy (34 per cent).
When developing their decarbonisation strategy, ensuring end-to-end visibility of the supply chain is vital. This drives intelligent decision making, enabling manufacturing leaders to identify the main carbon drivers that need to be addressed, and focus time and resources in the right areas.

The first step to developing an effective decarbonisation strategy is to ensure full data transparency across the organisation's supply chain and operations. To do this, manufacturers must collate and transform all relevant data to develop a base line, in order to measure trends in terms of reliability, cost and environmental performance.
Manufacturers should then turn their attention to assessing a range of base line risk factors. This will enable the business to consider the impact of proposed changes to its processes and sourcing strategies. As part of this assessment, manufacturers should categorise data in a high level of detail; as well as covering internal, key customer and supplier-related risks, they should also consider potential environmental performance issues in areas such as compliance and waste management.
Data should then be used to spot opportunities to improve KPI performance. By creating hypotheses or insights, bespoke algorithms can be developed that will automatically flag opportunities to enhance environmental performance and increase enterprise value. A comprehensive plan can then be created, providing Board-level decision makers, customers and investors with confidence that measurable improvements can be achieved against the company's chosen KPIs.
It's important to bear in mind that decarbonisation strategies must remain agile and be kept under constant review. As the business's performance criteria evolves, so should its approach to decarbonising operations. Access to reliable and dynamic data, for example, in the form of performance dashboards, is key to unlocking further opportunities to improve performance and gain a competitive edge. Once a data-focused decarbonisation strategy has been developed, it can deliver insights across six key categories impacting the carbon footprint of a company's supply chain and operations: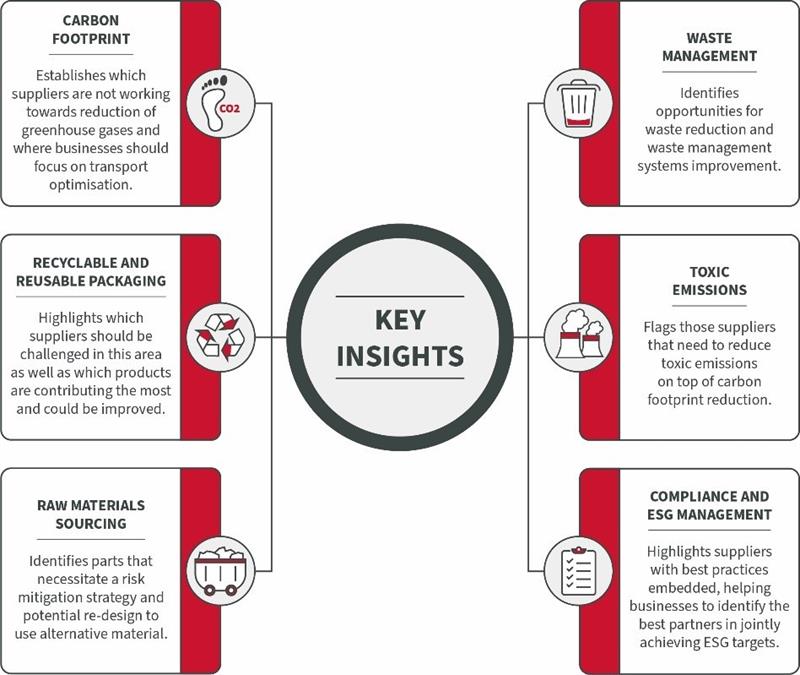 COP26 has been a powerful reminder of the need for UK manufacturing businesses to develop a clear plan for decarbonising their processes and sourcing strategies on route to the Government's net zero by 2050 target. By securing access to reliable data insights and keeping their strategy under review, businesses can optimise their investment in decarbonisation and future proof their business models.